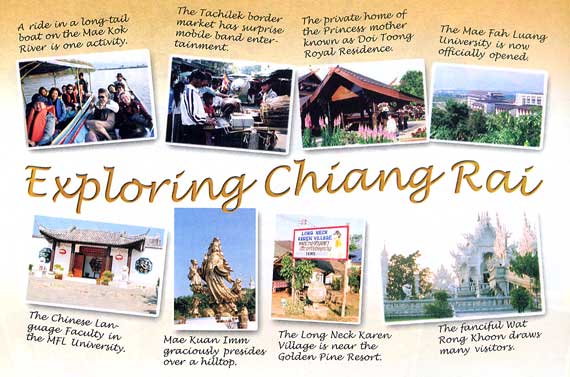 Long ago, political union related to allegiance rather than geographical boundaries.
This started to change when Europeans began using maps, navigating far seas and establishing colonies. When a new Siamese royal dynasty recognized need of a nationalist history to help in countering European acquisitiveness, Lanna had only recently come under suzerainty of their small empire. So, to add duration and physical extent to the kind of national development myth European colonists would respect, the royals focused on Sukotai rather than the more important Chiang Mai. Lanna, T'ai rather than Siamese (though Chiang Mai itself was often considered Siamese) became marginalized. This was easy ? after all, the leaders necessary for making allegiances, and indeed the populace itself, were mostly gone. Lanna had been devastated by diseases coming on the footsteps of a long series of wars.
The importance of community as opposed to institutions, of self-reliance as opposed to cash addiction, and respect as opposed to pride seem now dangerously diminished. The glorious skills of individual artisans have much become less a part of life than molded plastic, with cement and steel ubiquitous. Even music has become manufactured, and censorship restricts the arts, in Thailand, and perhaps all T'ai lands. Beautiful, old-style T'ai houses hardly needed air-conditioning, but the graceless new cement ones certainly do! No longer can farmers be self-sufficient, and too much which has traditionally kept society safe and understandable has begun to disappear…
Chiang Rai, Thailand's northernmost, and thus its coolest, province, was once the seat of a kingdom which became, briefly, an empire. It was a magnificent place, with strong cultural traditions. The rugged, hilly teak jungles which dominated the area remained into modern times, as have legends of secret magic and holy people born to save their people from dire events. Most things indeed remained as of old, up to just a generation ago.
Historically, this beautiful and important place has been, unfortunately, almost entirely overlooked. The reasons for this are largely political. Long ago, everywhere, political unity depended on allegiance rather than geographical boundaries. Then Europeans came, bringing new complications. Also, the culture of border areas, as opposed to that of Sukotai, has traditionally been foreign to that of the Central Plains and their coastal outlets. Lanna became neglected, but that it was more essential to the actualization of a Thai Kingdom than shown in history as normally taught will be explained in the following account.
Chiang Rai was the heart of Lanna, though Chiang Mai, to its south, became its biggest city. To the west some wild forest remains, in Mae Hong Son. North of Chiang Rai is the untamed Shan (or now perhaps better named Wa) State of Myanmar, and to the east, rustic northern Laos. The mighty river Mekhong (in Thai, Mae Nam Kong) runs along the border, wide and strong, with commercial traffic and occasional boat races. It forms the Golden Triangle confluence where the small Sai, which marks the Mae Sai border, joins, flowing on south past Chiang Saen. The Mekong then turns north, around the eastern hump of rural Nan Province, before heading south again, to the lands of its greatest fame. River traffic to Yunnan, China was becoming of commercial significance, until the Cool Season of 2003/2004 brought drought, and new Chinese dams blocked river flow. Private pleasure trips remain possible, though difficult, up to Sipsongpanna (Xishuangbanna, Yunnan), considered the heartland of the T'ai race. Trekking the Lanna area foothills of the Himalayas to meet colorful hill-tribe peoples can be quite rewarding, as can long-tail boat trips to or from semi-majectic TaTon, by the Burmese border at the northenmost end of Chiang Mai province.
The northernmost point of Thailand, at Mae Sai, is frequented mostly by tourists, shoppers and those engaged in servicing them. Tourists come to see the famous Golden Triangle, its drug museums, and the mighty Mekong, but also for visa extension purposes. One gets a 30 day stamp for touring Thailand by crossing the border and returning; this is still possible even when the border is closed by going to the 'Burmese' casino (owned by Thais) across from Ban Sop Ruak at the Golden Triangle River Confluence.
Many visitors are limited in their choices by budget considerations, but for those able to drive themselves, a pleasant ride into the mountains around Doi Tung, from Mae Sai, is well worth it. Off the highway about 3 km. south of town, a small road goes west to Pah Mii Village. After the rainy season, big yellow flowers of the KhiLek tree (for which the town across the river is named) and Dok Bua Tong (like a little sunflower, or a big black-eyed-susan with yellow center) decorate the hills, covering many with a beautiful yellow-gold. Not long into the rainy season, though, high grass hides much. Impressive views are most easily found from mid-December until the rainy season gets going in late May. One can see into Myanmar. Along the way, ethnic villages, little army posts, pine trees, stupendous wildflowers and at the top, lovely Suan Rukachat and Doi Chang Mob Arboretum entertain the eye. Further along are other beautiful places: the King's Mother's Villa and Garden, Doi Tung Zoo, Pa Kluai (Banana Forest) reservoir with exotic, traditional Lahu and Akha villages, and Huai Mai Pai (Bamboo Creek) reservoir.
The city of Chiang Rai has grown rapidly for over a decade, but remains casual and intimate. People know their neighbors. Crime poses little danger to the law-abiding, and life, though sedate, need not be boring. People tend to be open, honest and friendly. Opportunities and adventure remain available to the properly prepared, and a wealth of cultural diversity enriches all who make the effort to explore.
Both city and province have varied ethnic communities and places of worship. Of special interest is Wat Thai Yai, or Bpa Gaw Ngeu, off Pahonyothin almost across from Ruantip Hotel (at the corner of Ratbumroong Rd.), at the east entrance to the old airport. It's many eaves exemplify the northern style, distinct from the temples Thailand is famous for, but no less beautiful. A mosque in the middle of Issaraphap Road is over 100 years old. There're interesting markets, museums, reservoirs, pleasant parks and gardens.
Inexpensive, excellent quality dentists abound, including several very professional women (Pahonyothin and Trirat Roads). On both Pahonyothin and Sangkhong Noi, one can arrange plastic surgery, find excellent eating cheap, and enjoy live Lanna T'ai music (Tuk Tang and Sabun-nga especially). Before the 1990's, Chiang Rai was just a small, sleepy hill-town with not much going on, offering but a limited range of things of interest to a visitor, or of challenging opportunities. But that's changed. The old calm remains, but life is safer, modern style is no longer rare, and choices are rich.
There's now a second zoo in Chiang Rai, newly opened for breeding purposes. It's on the old route to Chiang Mai. Go west, leaving town through DenHa on 1211. Past the turn-off to Khun Gon Waterfall, continue straight on for another 13 kilometers to km 24. The entrance road is to the south, going pretty much straight on as the highway turns east. Try to be quiet and unobtrusive there; this is a breeding station and animals, too, are shy. It's the other, Doi Tung Zoo, that's meant for viewing, but here also are snakes, alligators, turtles, birds, monkeys, gibbons, leopards and other big cats, porcupines, deer and bears. Plants are labeled in Thai and Latin, as they are at many public parks, waterfalls and arboretums.
The Mae Kok River is great for long-tail boat rides or rafting, year-round. A couple tiny sand islands by a beach just west of town are known as Hat Chiang Rai or, more colloquially, Pattaya Noi. The stretch of beach is pleasant, with a beautiful mountain view across the water, a park behind numerous small open-air restaurants, and a long row of semi-private bamboo structures to relax in.
The Mae Gon stream holds boats during the rainy season, as can the Ing, Mae Suai, Kam and Sai, though only small ones. Most pleasure taken in natural water in the Lanna area is at pleasant reservoirs, waterfalls and hot-springs, of which there are many. For rental boats, it's best to try the lake west of Doi Khao Quai. Phyanak Reservoir, or Sleeping Lady Lagoon, by Tham Sao Hin, sometimes also has some on offer. Usually people picnic, and maybe throw a fishing line in the water.
There're many, many small lakes throughout the countryside, and a beautiful artificial one at Suan Somdet Ya, behind Rajapat Institute. The Chiang Saen Lake, over a square kilometer in size, is a bird sanctuary, with rental boats for bird-watching. For close experiences of nature, there are many arboretums, one of the best being at Thaam Luang (Great Cave) just south of Mae Sai, and jungle trekking still remains popular and offered by many, many local tour agencies.
Amidst banks, gold shops, lock shops, hardware & animal-feed stores, Chiang Rai's Main Market, by Tha Rot Noi (terminus for songtaow people carriers) has about everything: fresh food, hot food, clothes, Chinese ceremonial accoutrements, tobacco, utensils, medicines, calendars, curries, cleaning products, wicker ware, amulets, Buddhas, tools. In ancient Oriental tradition, bargaining is more than acceptable. The flower and fruit market north of the bus station is a delight; just east of that, an irregular tent market sometimes offers a small fair, complete with a Ferris-wheel, bump-cars and other rides. Various dry goods markets under tent-like awnings come and go, as do roadside vendors. North of town, pineapples and strawberries are wholesaled on the side of the highway, in season.
What's perhaps the most fun is the Mengrai Festival, a week-long carnival at the end of the cold season, held on the Sports Stadium grounds. More significantly, every evening, between the bus station and Pahonyothin Road, in the center of town, is the Night Bazaar. It offers traditional stage shows, katoey (lady-boy) shows, fortune-telling, a wide variety of fun things for sale, inexpensive food and a luxurious two-floor restaurant with friendly atmosphere. It's by the bus station and opens, naturally, after dusk. Traditional and modern weaving, carving and jewelry, burlwood boxes and teak bottle-holders, magic-act equipment, temporary and real tattooing, art and origami insects are always available. There are Hilltribe vendors, open-air beer bars, and shows on two stages. Open to about midnight, depending on business and rainfall.
By MaeSai's bridge to Burma, there's another real plethora of goods on offer. The town across the bridge, Tachilek, can be visited without any prior visa arrangement. On both sides of the bridge there're fruits and electronic goods from China, dried mushrooms, sunflower seeds, Burmese make-up and antiques, and interesting knock-offs. The only Myanmar currency you'll see is sold as souvenirs. Myanmar postage stamps can be bought at the bridge, at above face value. Postcards sent from the Tachilek post office, though, may never arrive! The fresh-food market further on into town has become unpleasantly dirty and full of flies. Near the bridge is nice enough, save for the beggars and betel-spit stains. If buying cigarettes, beware – a switch is quite often cleverly pulled! French wines are a little cheaper, and often OK. Many merchants in Tachilek speak Thai, their native language.
When going about, dress nice, be polite, use some of the locals' fascinating, idiosyncratic language; and you'll be assured a rewarding time. Also, it can't hurt to try understanding the locals' sense of pride in who they are!