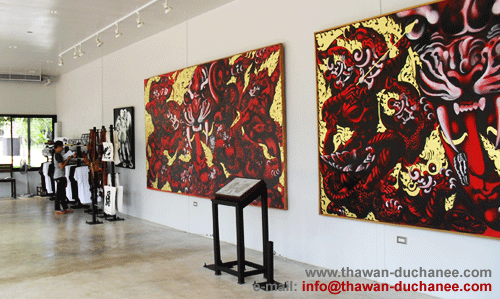 Chiang Rai's grand old temples and fascinating ruins have some fresh company in the tourism trade. Artists' Open Houses might not have the grandeur of history on their side, but they're a whole lot livelier.
The northern province's Cultural Bureau and Mae Fah Luang University are steering visitors to the studios of many area artists for a meet-and-greet-and-maybe-buy.
Dr Pollavat Praphattong is in charge of the project, which the Thailand Research Fund earmarked as a way to promote both Chiang Rai culture and build a new tourist attraction.
The province boasts several dozen established and well-known artists – among them Thawan Duchanee, Chalermchai Kositpipat and Somluk Pantiboon – and hundreds of other talents in all genres of art.
"Chiang Mai is the preferred place to stage art events, but Chiang Rai is a better place for artists to work because of its tranquillity and slower pace of living," says Pollavat, who also heads efforts to establish a Mekong Basin Civilisation Museum.
Apart from urban graffiti specialists, few artists would dispute the inspirational allure of laid-back, all-natural Chiang Rai.
"The artists here usually open their homes and studios to special guests to show their work," Pollavat says. "By expanding on that practice, we can turn their homes into proper attractions, just as they've done with William Shakespeare's birthplace in England and Claude Monet's estate in France."
Participating artists include Thawan, Somluk, Chalermchai, Aphirak Punmoonsilp, Songdej Thipthong, Naris Rattanawimol, Chaiwichit Sitthiwong, Teerayut-Orapin Suebtim, Chalong Pintisuwan, Promma Inyasri, Phanthong Saenchan, Sompol Yarangsee and Nitaya Tamwong.
"We made it a rule that an artist has to live in Chiang Rai for at least eight months a year to be included, have at least 10 years' experience and be creating art continuously," Pollavat says.
Three routes have been mapped out that feature the artists' studios and 13 private galleries.
Carrying the theme "Nature Beneath the Spell of Flower, Buddhist Arts and Antique Pottery", Route 1 follows Highway 118.
It takes in the pale-blue and green ceramics at an old pottery village in Wiang Kalong, the Mae Chedi Temple with its century-old pagoda, Sompol's house and Nitiya's Colourful Art Garden.
"Art and the City" is on Route 2, a different stretch of Highway 118 and down Phaholyothin Road past many Lanna temples, both old and new – as in Wat Rong Khun, designed by Chalermchai.
Route 3 ambitiously embraces "Artistic Creation in Thailand's Far North", following Highway 1 into Mae Sai district. This is where Somluk has his much-admired Doi Din Daeng ceramics studio.
"The artist's avocation entails individualism and freedom," Somluk says, "so artists should make sure their homes reflect that. It's a good idea having artists open their homes so that the general public can get closer to them and their ideas."
Somluk's house has an art showroom as well as his studio, and even a cafe. It's all poured concrete, in the modern Japanese style. You can have quite a lengthy browse amid the ceramic wares and water jars.
"My home design emphasises economy, simplicity and harmony with nature," he says. "I use only natural materials, like the soil dug right from the space under our house."
Nearby is a new temple, Wat Pa-Or Romyen, home to a yellow-gold bamboo pagoda with big jars filled with 84,000 Buddha amulets and a beautiful mural by Songdej Thipthong.
"The temple was a collaboration between the villagers and the artists," Pollavat explains.
Songdej has a gallery at his home in Mae Chan district. His house is modern but simple in design, utilising bamboo and mulberry paper. A designer friend made all the furniture from bamboo. Songdej's lovely paintings depict Buddhist scenes and concepts.
Songdej also appreciates the open-house project, saying it gives artists more chances to show and explain their work.
Thawan's famous Baan Dam (Black House) is on the same route. It's an amazing complex, complete with a huge Lanna-style vihara and 40 galleries in a line that are adorned with the animal horns, boats, furniture, wickerwork and paintings that Thawan has made or collected.
Get a Chiang Rai Art Map from the Provincial Cultural Bureau. Call (053) 150 169.
Doi Din Daeng Pottery is at 49 Soi 3, Ban Pa Or, Nanglae district and open daily except Sunday from 8am to 5pm. (053) 705 291; www.DDDPottery.com
Songdej Thipthong's gallery is at 68/1 Ban Mae Kham Sobpeun in Mae Chan. Arrange a visit at (053) 779 494.
Baan Dam is at 414 Nang Lae district. It's open daily from 9 to 5. (053) 776 333; www.Thawan-Duchanee.com