Chiang Rai International Airport is located about ten kilometers outside the city. It is a small airport with just one terminal and very little in the way of entertainment as you wait for your flight. Even though it is classified as an international airport there are actually no scheduled routes outside of Thailand as yet. It is possible though to get a flight to here from Bangkok, Chiang Mai, and Mae Hong Son. It is hoped that more routes will be added in the future.
Train
There is no train service directly to Chiang Rai, but you can go by rail to Lampang and then switch to a bus from there.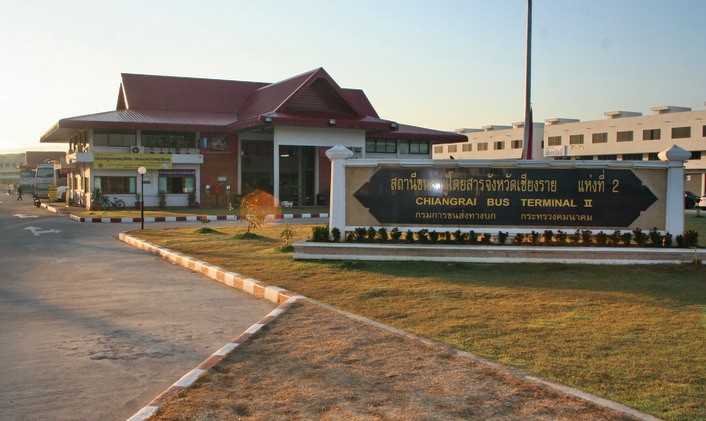 Bus Station
There are many buses going to Chiang Rai from Bangkok, Chiang Mai, and many other cities in Thailand. The air-conditioned buses are the best choice if your journey is going to be a long one. It takes about fourteen hours from Bangkok to Chiang Rai; although there are some express buses that can do the trip a bit faster. Coming from Chiang Mai it takes about four hours. If you are coming from Lampang you can make the journey in about two hours. The Old bus station in Chiang Rai is right in the heart of the city beside the night bizarre.
The new bus terminal opened in April 2009 and has since become the center for nearly all inter-provincial routes, hosting VIP, 1st-class, and only a handful of 2nd-class bus lines. Companies of note include Sombat Tour with 2 offices on site, Green Bus with the only routes to and from Chiang Mai, and the high-class Nakhonchai Tour and Nakhonchai Air lines. Nearly all of the bus companies operating here have clear signs and posted schedules, so it's easy to get the information you need.
Getting Around Chiang Rai
Public Bus
The public bus service in Chiang Rai is quite good and will be able to take you to most of the destinations you want to get to around the province. The best thing about doing things this way is that it is very cheap. On the down side some routes don't have many air conditioned buses and you may find yourself on a packed vehicle where you will need to stand for up to an hour.
Rent a Motorbike or Car
There are a few places in the city where you will be able to rent a motorbike or car. This can work out quite well and give you a lot of freedom. If you are experienced using a motorbike you should have few problems although the mountain roads in the north of the province can be dangerous. If you are riding in the city it is important to realize that many drivers ignore the rules of the road completely.
Bicycle Taxi
Chiang Rai city can be enjoyed by bicycle and so can most of the other towns in the province. This is safer than the motorbike and it can be a pleasurable way to tour the area. It is also possible to go on longer bike tours if you have the energy for this. The cooler weather in the north of Thailand means that cycling can be more pleasurable – especially during the cool season.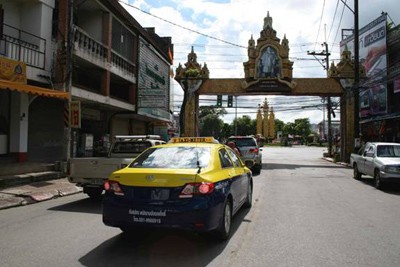 Taxi
For the first time, visitors and residents can enjoy the luxury of flagging down a meter-taxi here in this northern-most town in Thailand.The new service started last week using brand new Toyotas that can be flagged down for trips within the city or booked for trips throughout the province.Chiang Rai often billed as the "City of Artists is also the gateway province to the Mekong Region."
It shares river borders with Myanmar and Laos, while a bridge linking the province to a highway that links Laos and Yunnan province in China is due to open next year.
The fleet of 25 yellow-and navy blue meter-taxi were on the streets last week to the surprise of both visitors and residents.
According to the taxi service manager, Mr Songkran, who is based at an office next to the new Inter-province Bus Terminal 2, another 25 cars will join the fleet giving the city 50 brand new Toyota Corolla taxis.
In the city, flag down is Bt30 for the first 2 km and Bt2 for every additional km. The rate for out of town destinations is Bt10 per km.
For example, a trip to the Myanmar border at Mae Sai, or the Golden Triangle at Chiang Saen, would cost about Bt600.
A transfer to the airport would cost Bt120 (within the city limits) but an additional  Bt20 fee  is charged for pick-up at a residence, hotel  in response to a telephone booking. To book a taxi call 053-773-477 or 081-998-8918.
Visitors to Chiang Rai in the past had to rely on local buses and the so-called tuk tuk or song taew (converted pick-up trucks).
Tourism executives and hotels welcomed the service calling it a "real boon for Chiang Rai" that will add value to the holiday experience and help to promote tourism and raise Chiang Rai's profile