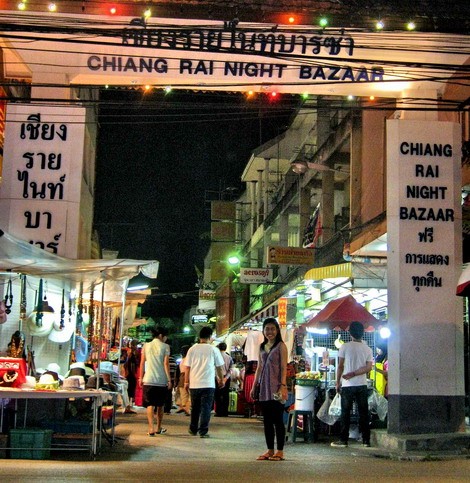 Chiang Rai Province is home to a handful of natural-born artists and craftsmen, but shopping in Chiang Rai itself feels more like an undercurrent than mainstream activity. The Night Bazaar and Saturday Walking Street are probably your best bet when it comes to enjoying a shopping experience.
Unlike in Chiang Mai, where arts and crafts are often concentrated in one single area, Chiang Rai's artists prefer to pursue an independent lifestyle, practicing and trading their own crafts. These are successful artists who work from their home studios, tucked away in the mountains, and the only way to acquire their crafts is to go out to them.
On the opposite spectrum, you have various artisanal communities that promote certain crafts, whether spa products, herbal teas, health food, textiles, or tribal crafts. The Doi Tung brand, part of the Mae Fah Luang royal development project, offers some of the finest quality crafts from across Chiang Rai.
Every Saturday evening, the 1.5-km stretch of Thanalai Road comes to life with shopping stalls, food carts, live folk music and an atmosphere of festivity. Here is the perfect opportunity to mingle among locals, sample northern Thai snacks and bag some souvenirs for friends and family back home. You will find plenty of stalls selling handicrafts, clothing, spa products, tribal crafts and a collection of Doi Tung-branded goods. Another highlight is a string of cultural performances which re-enact scenes from the local way of life and traditions of the ancient Lanna people.
Opening Hours: 16:00 – midnight
Location: Thanalai Road, from Tung Garden to Chiang Rai Vocational College
Doi Chaang Coffee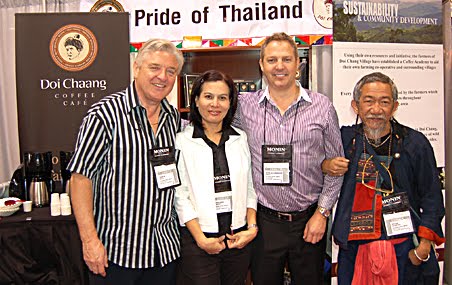 Doi Chaang is the name of the mountain where Chiang Rai's top-quality Arabica coffee beans are grown, and this cosy coffee house is where you can buy them. Cultivated at 1,200 metres above sea level, the organically grown beans are hand-picked and processed according to the full wet method, which helps maintain their quality. Choose from a range of roasted beans, from Doi Chang Premium beans to single-origin Peaberry, Swiss Water Processed Decaf and wild Thai civet beans (Kopi Luwak). Doi Chaang coffee is a member of Beyond Fair Trade, which ensures that farmers retain 100% of the proceeds from the sale of their beans.
Opening Hours: 07:00 – 21:00
Location: Banpaprakan Road, immediately west of the Clock Tower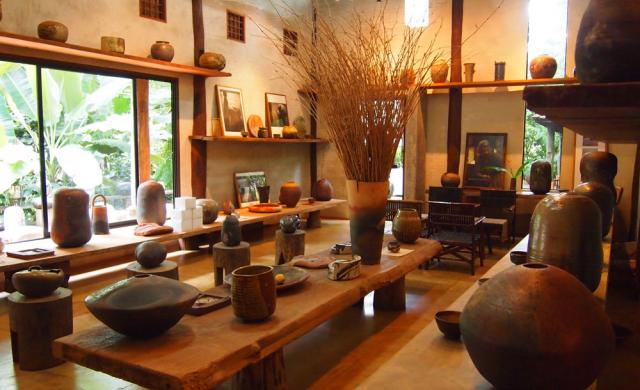 Doy Din Daeng
Inspired by Chiang Rai's lush nature and tranquil landscape, Doy Din Daeng pottery studio has been producing wheel-thrown pieces with simplistic, almost zen-like design, since 1991 and was founded by native Chiang Rai potter Somluck Pantiboon. Trained with Japanese masters in Japan, Somluck came back to Chiang Rai and founded the gallery in 1991. Set in a shaded forest, the studio comprises several adobe huts that serve as a workshop, exhibition gallery, shop, café, owner's residence and trainees' dorm. You will find both functional and decorative pieces, although the price is not cheap and each piece requires close scrutiny due to inconsistent quality. But, at the end of the day, you are paying for pieces of art.
Opening Hours: 08:00 – 17:00 (closed on Sundays)
Location: About 15km north of Chiang Rai City
Tel: +66 (0)53 705 291
How to get there: From Highway 1, go pass Chaing Rai Rajabhat University on your left and at km. 841 prepare to turn right into Soi 3. After making the turn, following the road for about 2km and the studio will be on your left-hand side.
Hill-Tribe Museum Souvenir Shop
The Hill-Tribe Museum offers a diverse collection of embroidered handicrafts from various ethnic hill-tribes. Each tribe has its own unique embroider pattern, and here you will find mostly Yao, Lisu, Mhong and Akha bags, wallets, placemats, bed covers, pillow cases and even leggings. Besides tribal crafts, the shop also has a range of Lanna crafts, such as Tung decorative flags, northern folk music CDs and books on the ethnic hill-tribes as well as cultures in the Mekong region. The price tags here may be a little higher than what you will find at the Night Bazaar or Walking Street, as the museum donates profits to support the PDA Chiang Rai's ethnic hill-tribe development activities.
Opening Hours: 09:00 – 18:00 (Mon – Fri); 10:00 – 18:00 (weekends and public holidays)
Location: 3rd floor PDA Building, on Thanalai Road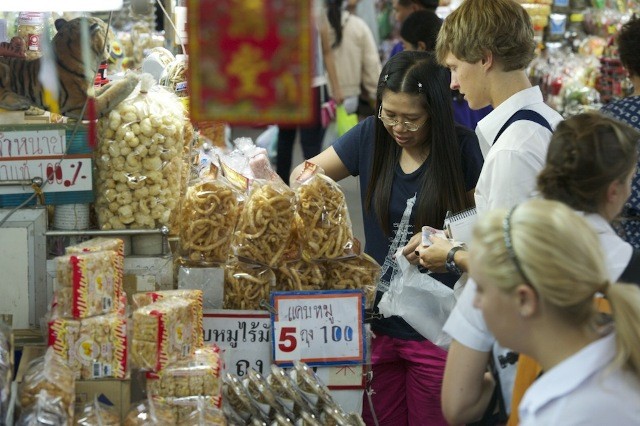 Kaad Luang (Central Market)
A haven for street food lovers, Kaad Luang (Central Market) has all kinds of munchies and snacks imaginable. Go early in the morning (pre-dawn) and the market activities take place inside the bazaar, where you'll find not only food but also clothing, toys and a whole range of knick-knacks and kitsch accessories. Kaad Luang undergoes a hiatus during the day, before coming back to life at sunset, when the focus shifts to purely food, whether fresh vegetables, fruits, grilled seafood, northern delicacies, ready-to-eat meals, or desserts. Vendors set up their stalls around the bazaar, which takes up the entire street block.
Opening Hours: 04:00 – 07:00 and 17:00 – late
Location: Uttarakit Road, about three blocks north of the Clock Tower