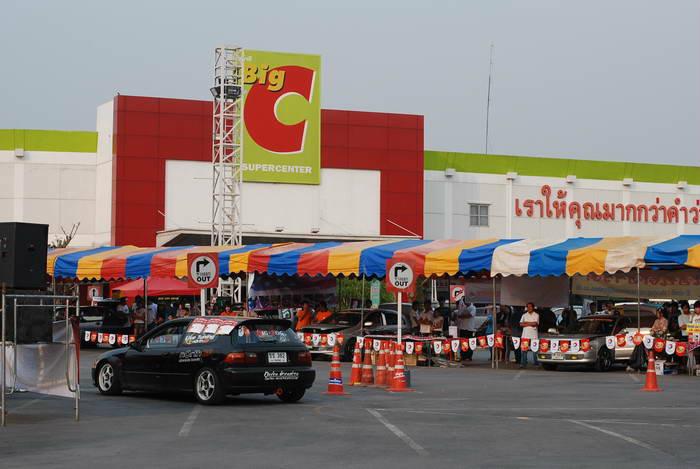 Big C Supercenter operates business in the form of "Hypermarket" or "Supercenter", a modern retail business which is managed under the umbrella of Big C Supercenter Public Company Limited and its subsidiaries. Today, Big C has 1 Big C Jumbo, 16 Big C Extra, 97 Big C or a total of 114 branches, divided into 49 branches in Bangkok and the vicinity, 65 branches in the provinces.
Big C" reflects the two most important elements of our business and our strategy for success.
"Big" refers to the large size of our stores and the wide selection of merchandise we offer. Big C currently stocks over 100,000 items to meet every customer need.
"C" refers to our loyal customers, who are the key to the success of our business.
With more than 16,000 staff, Big C offers a clean, comfortable shopping environment with a wide assortment of goods available at reasonable prices including provide outstanding customer service in order to ensure the winning business strategy. Additionally, Big C provides a one-stop shopping experience to our customers with a wide range of useful services at all stores.
Big C Town Center provides rental space located both inside and outside of Big C building to let the entrepreneurs do business within Big C. Nonetheless, goods and services providing must be different from the goods sold in Big C. Therefore, customers visiting Big C could increase range of products and services available at a single destination, enhancing the overall shopping experience.
Most of the operators that lease space at Big C Town Center can be divided into 4 main categories:
Food and Beverage: restaurants, franchises food outlets, food court
Entertainment: cinemas, karaoke booths and kid's playland
Specialty Stores: book shops, fashion boutiques, electronics shops, mobile phone shops and pharmacies
Services: banks, laundry shops, hair salons and replacement spare part shops
Take Superhighway Rd. from downtown to Phan district. Store is on the left of Superhighway Rd.
Address:
184 Moo 25
Robwieng, Muang
Chiangrai 57000

GPS:
19.88852,99.83787
Telephone:
0-5374-6500-14
Fax:
0-5374-6549
E-mail:

[email protected]